Welcome to a wonderful world full of magic where we create an enchanting decor for unforgettable moments with family and friends.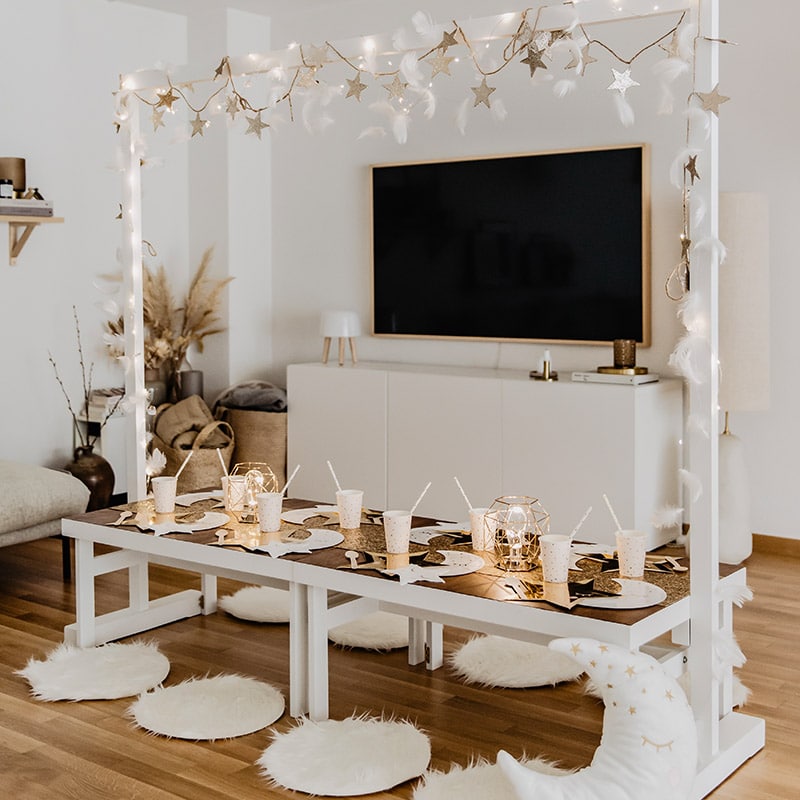 Wedding and Parties : Kids Corner
So that children and adults alike can enjoy this extraordinary day, we set up a space dedicated to children, with our beautiful tents and / or low tables. The little ones will be able to have fun and rest in a magical universe. We also offer a quality babysitting service on request, via our partner.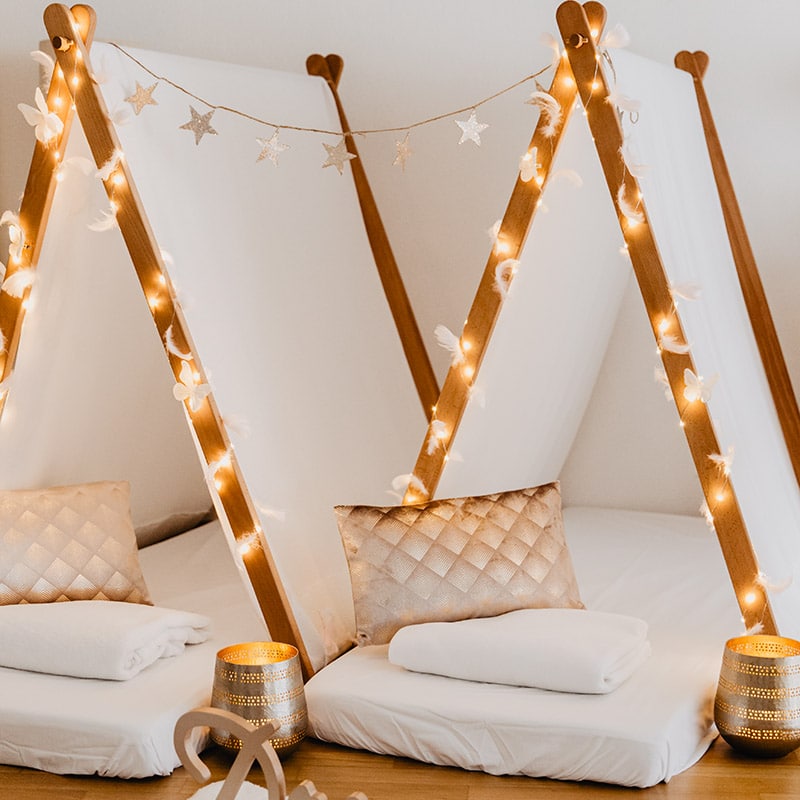 Baby shower / Bachelorette Party
A moment between best friends to pamper the future bride before the big day or the future mother before the arrival of baby. On the program: sleepover on the theme of your choice, spa service on request, games, laughter for an unforgettable evening.
Why choose The Enchanted Company ?

A Swiss and handmade project
A designer from Morges, a workshop in Etoy, partnerships with local workshops in Geneva and Vaud and local and European commercial partners. Our tent covers are handmade in our workshop, with a lot of love and passion, as well as most of the textile accessories and all the stationery.

Beautiful themes
The widest choice of unique themes, imagined and created in our workshop in Etoy: a trip to the land of unicorns, an enchanted lagoon of mermaids, an expedition at sea or an adventure in the land of llamas. We also realize your wishes upon request.

A personalized service
We listen to your needs and wishes in order to make you the most suitable offer possible. All our packages are personalized with each guest's name.

High quality material
Enjoy the greatest comfort with spacious tents made of solid Beech wood, premium foam mattresses and 100% cotton sheets.

A sewing workshop at your service
We manufacture our tent fabrics and most of our textile accessories in our workshop in Etoy. You can therefore choose the fabric and the dimensions of the items you order.

A complete offer
Pour plus de magie et de facilité, nous vous proposons un large éventail d'idées pour compléter la fête : invitations et cadeaux invités faits mains à Etoy et entièrement personnalisables, Spa Parties, vaisselle de fête, idées de bricolages, etc…
Our experience
Nous avons déjà réalisé plus de 200 soirées pyjama dans la région depuis notre création, vous pouvez compter sur notre expérience. Nous vous conseillons volontiers et nous trouvons des solutions.

NOTRE PROFESSIONNALISME
Pour chaque fête vous recevez un bon de réservation détaillé. Lors de la livraison, vous recevez également une liste complète du matériel utilisé, avec les coûts éventuels retenus sur la caution, comme ça, pas de mauvaise surprise.

Magic for disadvantaged children
For each reservation, The Enchanted Company makes a donation to a charity that supports the well-being of children, near us and in the world. We have thus supported the associations "Porte Bonheur" in Yverdon, the Red Cross of Geneva, and SOS Children's Villages.
"Thank you Nancy for your kindness, your availability and especially for your work that allowed us to make our daughter dream. Without your childlike spirit and your talent we would not have been able to offer her this birthday which I am sure will remain unforgettable."
"We were all enchanted, no pun intended, by your magnificent concept, your flawless service and your courtesy"
"I would like to thank you again. Thanks to your professionalism and attention to detail, I was able to give my daughter a birthday party that I didn't have time to prepare myself. Thank you again for all the details.''
"It was the best sleepover of my life!"